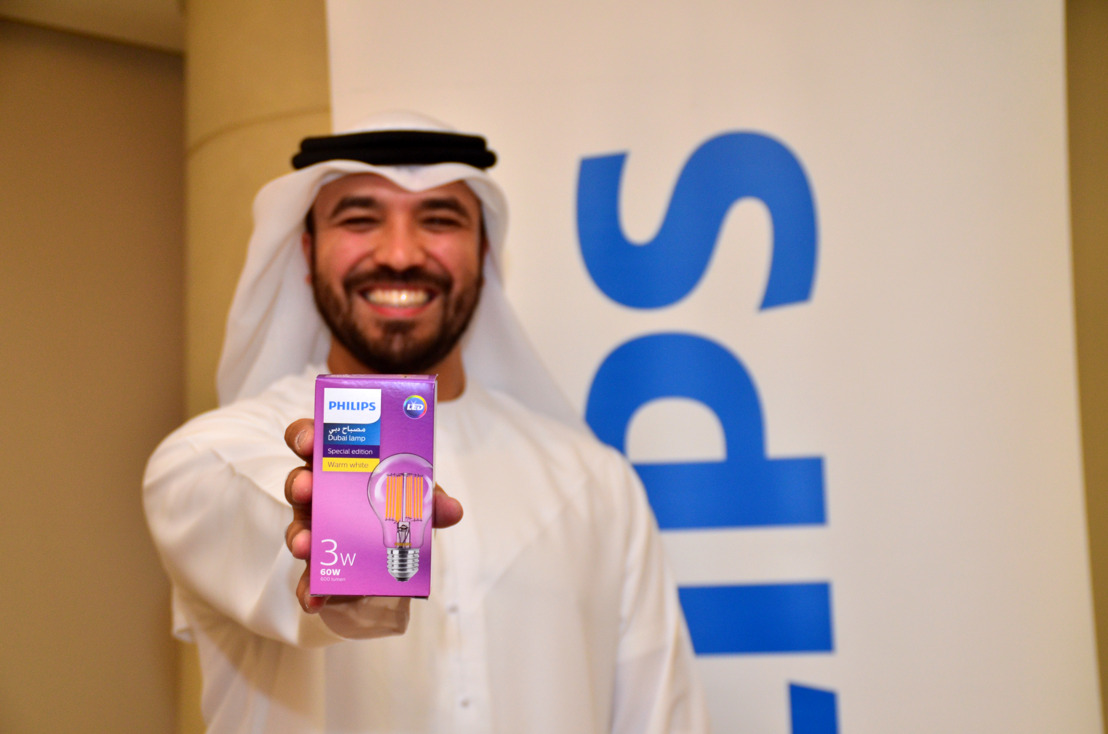 Philips Dubai Lamp hits the shelves this Ramadan
Industry experts and stakeholders gather to discuss consumers' role in reducing energy consumption as world's most energy efficient light bulb becomes commercially available across the UAE
Tuesday, May 23, 2017 — Philips Lighting (Euronext Amsterdam ticker: LIGHT), a global leader in lighting has announced that Dubai Lamp, the world's most energy efficient light bulb, will be widely available across the Emirates starting May 27.
The announcement, made this morning at a roundtable discussion on sustainability hosted by Philips Lighting, was attended by Olav Scholte, Marketing Manager End-User Projects at Philips Lighting Middle East; Ivani Iannelli, CEO of Dubai Carbon; Helen Farmer, journalist and mummy blogger; and Amruta Kshemkalyani, sustainability and lifestyle blogger. The panel was moderated by Emirati writer, presenter and advocate of youth development and education, Khalid Al Ameri.
The participants gathered to engage in an open discussion on sustainability and offered their experiences and views on the implications of energy consumption at current levels on the planet, and the significant role UAE consumers can play to ensure a greener future for younger generations, against the back drop of the launch of Dubai Lamp.
"Due to growing populations and urbanization globally, energy consumption at current levels is simply unsustainable and the pressure on our planet continues to mount. With lighting accounting for 22% of all energy consumption in the Middle East, well above the global average, Dubai Lamp alone offers unprecedented energy savings and the reduction of carbon emissions. With consumers more environmentally conscious than ever before, we hope that with their support we can put a considerable dent in our carbon footprint to ensure the health of our planet for future generations.," said Olav Scholte, Marketing Manager End-User Projects at Philips Lighting Middle East.
Speaking on the panel, Amruta Kshemkalyani of The Sustainability Tribe commented, "Since launching my website back in 2008 government led sustainability initiatives have had a positive effect on environmental awareness. I've personally found people today are more open than ever before to sustainable living. I believe Philips Dubai Lamp, thanks to its accessibility in terms of pricing, will encourage further environmental awareness and action."
The result of a unique research partnership between Philips Lighting and Dubai Municipality, the Dubai Lamp, which was unveiled last October as part of Dubai's sustainability agenda, aims to reduce energy levels for lighting by as much as 90%. By replacing conventional lamps at home with the Dubai Lamp, consumers could not only help to reduce their carbon footprint, but in the process save up to AED 2000 yearly on their DEWA bill.[1] The Dubai Lamp is also free from mercury and other hazardous substances.
"In our bid to become the world's most sustainable city, we are striving to reach a 30% reduction in energy consumption by 2030 and a 16% reduction in carbon emissions by 2021, per the Dubai Integrated Energy Strategy. We have worked closely with Philips Lighting on this innovation as part of our efforts to build a greener economy and a sustainable future for our children. We urge UAE residents to actively engage in the Dubai Lamp Initiative and to think and act green in every aspect of their lives to help realise these goals," said Eng. Maitha Khalifa Mohd Almazroei, Head of Sustainability Research & Studies Section at the Applied Sustainability & Renewable Energy Department, Dubai Municipality.
In addition to raising light and energy efficiency to new levels, Dubai Lamp is extremely durable with an average lifespan of up to 25 times longer than conventional lamps.
The 200 lumen per Watt LED lamp will be available in four models both in cool daylight and warm white colours: 1W candle lamp to replace 25W incandescent lamp, 2W bulb to replace 40W incandescent lamp, 3W bulb to replace 60W incandescent lamp, 3W MR16 spot to replace 50W halogen spots. The product range will start from AED 18 and will be available across selected leading supermarkets including Carrefour Hypermarket, LuLu Hypermarket (also available on Lulu Webstore), GEANT, Union Coop and Aswaaq.
For more information about Dubai Lamp visit www.DubaiLamp.com
[1] Assumes the replacement of 50 conventional lamps for every household